Yesterday, I enjoyed a completely relaxing afternoon and evening. After dropping off Car Guy at my parents, I leisurely read trashy tabloid magazines as I had my hair cut. Then I chilled out all by myself in my house before going to dinner at the fun and funky Mellow Mushroom. My steak and bleu cheese pizza was fabulous, but the best part of the dinner was the pint of Ace Perry Cider that washed it down. After getting home and tucking the kids in for the night, I curled up on my bed to watch "Chocolat" before I dozed off to dreamland with the windows open on a heavenly spring evening.
Aaaaah...pure relaxation. I especially enjoyed the "Chocolat" part of the evening. I just love that movie- quaint French village, chocolate, Johnny Depp. Oh, yes, Johnny Depp- my favorite part of the movie. I freely admit to having a celebrity crush on Johnny Depp- you know, hot, artsy, bad boy with a heart of gold Johnny Depp. I also entertain a thing for Patrick Dempsey, as in tall, dark-haired, handsome with just a hint of stubble Patrick Dempsey.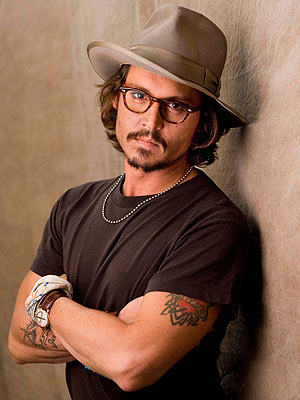 Do you remember your first celebrity crush? I clearly remember picking up
Tiger Beat
magazine at the store as a tween and early teen. Aaaah.... the cute boys, the celebrity gossip. My first celebrity crush was Shaun Cassidy. Now don't laugh, he and his feathered hair were hot in the late-'70s and early-'80s. The other day I dug through stacks of mix tapes and albums in the garage to unearth my old Shaun Cassidy album, complete with "Da Doo Run Run." Alas, the pull-out poster that formerly hung on my wall was no longer in the album cover. I definitely had a thing for Shaun Cassidy and never missed him in an episode of "The Hardy Boys" on tv.
I met him on a Monday and my heart stood still
Da doo ron ron ron
da doo ron ron.

Somebody told me that his name was Bill

Da doo ron ron ron da doo ron ron.
The tween girl in my house has definitely ventured into the "boys are cute" celebrity crush stage. The Jonas Brothers, especially Nick, seem to be the current object of desire. Curly Girl liked the JoBros before, but after her dad took her to their concert for her birthday last summer, her mild attraction blossomed into Jonas Brothers mania. Yes, I do like the JoBros and have been known to drive around with the windows down blasting their tunes in my mini-van. I'll even admit to thinking Joe (in the center) and Nick (on the right) are rather cute.
So who was your first celebrity crush? Leif Garrett, Donny Osmond, Andrew McCarthy? Who? Come on, spill the beans. Everybody wants to know.